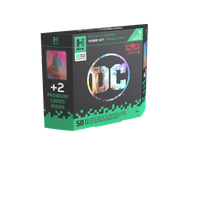 Price: $75.00
Store availability: out of stock
DC UNLOCK THE MULTIVERSE:
Collect 155 unique pieces of iconic art and history from the worlds of your favorite superheroes like Batman, Superman, Wonder Woman, and beyond. This trading card collection spans the entire DC Multiverse from Superman's first appearance in Action Comics #1 (1938) to The Batman (2022)!
· HYBRID NFT TRADING CARDS: Each physical trading card is uniquely minted and connected to a 1:1 Digital NFT Twin. Simply scan the QR code on the back of your card in the Hro mobile app to unlock it' NFT Twin, providing proof of authenticity and ownership backed by the trust and security of the Ethereum Blockchain.
· TEN GUARANTEED HOLOGRAPHIC TRADING CARDS: Each 8-pack Premium Starter Pack of Hro Hybrid NFT Trading Cards comes with at least ten holographic cards – guaranteed!
· LIMITED EDITION 'THE BATMAN' TRADING CARDS: Collect stills, movie posters, and more from The Batman in addition to a vast collection of over 155 Trading Cards from the DC Multiverse
· COLLECT: Forge your legacy as you become a Hro legend, unlocking unique hybrid NFT trading cards to build an enviable collection.
· BUY / SELL / TRADE: Negotiate with buyers, sellers, and traders to curate the ultimate trading card collection – safe in the knowledge that blockchain technology offers you solid proof of authenticity and ownership over every asset.
· COMPETE: Show your favorite DC heroes what kind of fan you are! Seek out the rarest cards, race to the top of the leaderboard and win special leaderboard rewards.
· JOIN THE COMMUNITY: The Hro universe needs you! Join our community of trading card collectors and meet passionate, knowledgeable, like-minded fans across the globe.
Item #: 105742 Product code: UPC: 5411068080128