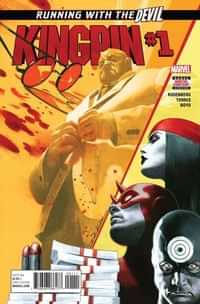 Matthew Rosenberg(w), Ben Torres(a), Jeff Dekal(c)
WILSON FISK BUILDS A BRAND-NEW EMPIRE!
The KINGPIN has done bad things. Deplorable things. He has cheated the law. He has blackmailed rivals. He has killed. But that's all in the past. The Kingpin is back in the city that he loves and ready to make his mark as a titan of legitimate industry, but needs to rekindle his public image. When Wilson Fisk makes disgraced journalist SARAH DEWEY an offer she can't refuse, the spiraling saga of crime and betrayal begins anew.
Price: $4.25