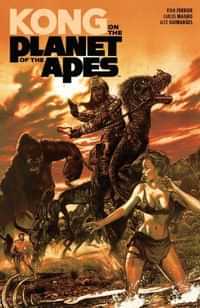 Ryan Ferrier(w), Carlos Magno(a), Faye Dalton(c)
Collects KONG ON PLANET OF APES #1-6.
Following the events of the first Planet of the Apes film (1968), Dr. Zaius and General Ursus lead a small group of soldiers to the Forbidden Zone to destroy any remaining evidence of Taylor's time among them. To their surprise, they discover.. .a Kong! Now they must venture to Skull Island with Cornelius and Zira to discover the truth, but they may not survive the deadliest journey of their lives!
Price: $19.99