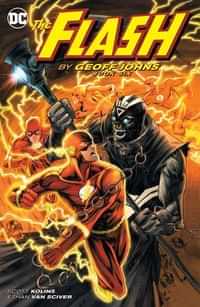 Geoff Johns(w), Ethan Van Sciver(a)(c). Various(a)
Collects FLASH REBIRTH #1-6, BLACKEST NIGHT FLASH #1-3 and FINAL CRISIS ROGUES REVENGE #1-3.
It's a new era for the Flash as Barry Allen returns to a world he doesn't recognize anymore. Then, Barry Allen and Wally West must battle the undead Rogues! But can even two super-speedsters stop these unbeatable foes? Plus, the Rogues reassemble to remind the world why no one should mess with them!
Price: $29.99