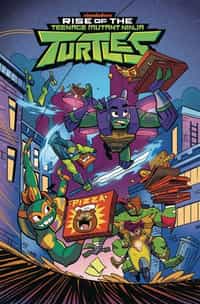 Matthew K Manning(w), Chad Thomas(a)(c)
Collects RISE OF THE TMNT #3-5.
Advance solicited for September release! The TMNT are in a bitter fight with each other over an extremely sensitive topic? which pizza place has the fastest delivery! Then, to catch a mutant kidnapper sometimes means? getting kidnapped?! When the Turtles lay a trap to lure their latest mystery villain out into the open, it turns into the Teenage Mutant Ninja Turtles Reunion! With featured guests Raph, Donnie, Leo, Mikey, April, and.. a whole host of angry villains?! Watch as Warren Stone's quest to reclaim his glory puts the Turtles in a spotlight they don't want to be in!
Price: $9.99