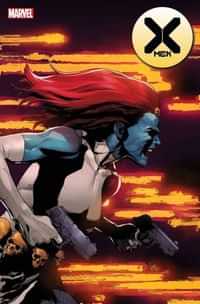 Price: $4.25
Store availability: in stock!
Author: Jonathan Hickman
Artist: Leinil Francis Yu Matteo Buffagni
It's time to go back and find out what Mystique was up to in House of X. Never one to merely do what Xavier asks, Mystique takes on a clandestine mission to a looming threat to mutant-kind. What does Mystique get out of this? And why would Xavier and Magneto deny her what she ultimately wants? You think you know what happened in House of X, but it turns out that's not the whole story.
This X-Men series follows the comic book event House of X and Powers of X by Jonathan Hickman. X-Men is part of a new comic book series of titles referred to as "Dawn of X," a new era for X-Men and all mutants.
Who to know
This issue is the first time Raven Darkholme, aka Mystique, has taken center stage of this X-Men series. Her story up to now is she is a shape-shifting mutant that can take on the appearance of other people and animals by changing her physiology.
The backstory contains Mystique's relationship with Irene Adler, aka Destiny, a precognitive mutant that can predict future events. Destiny is currently deceased, and this is a problem Mystique knows Charles Xavier can resolve.
Item #: 69074 Product code: NOV190812 UPC: 75960609466000611
Also available in multiple covers