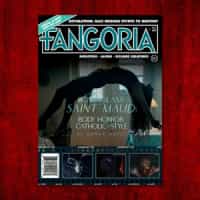 Price: $19.79
Store availability: out of stock
Who could have seen this global pandemic coming? Judging by FANGORIA #7, we sure didn't! Like a frozen time capsule of an alternate universe, Fango #7 is packed with coverage on spring releases that were yanked from the schedule moments after the mag went to print. One film - THE HUNT - snuck onto screens (and our cover) before the world shut down. A couple titles (We Summon The Darkness, Shudder's Cursed Films) are available to stream this spring. But hang in there with us - the rest of the mag is full of great coverage of films you'll get to see eventually!
Michael Gingold reports on the rural horrors of ANTLERS and THE WRETCHED; Danny Boyle interviews Rose Glass on SAINT MAUD;
The director and writer of SPIRAL share their journey of rebooting the SAW series; New fiction from Mick Garris and Nicole Exposito;
Plus a feature on Fango's own PORNO that is downright nuts!
Buy it, skim it, stash it - these movies WILL hit screens one day, and when they do, you'll be ready with this issue of FANGORIA!
Item #: 74008 Product code: FEB201671 UPC: 860400002161