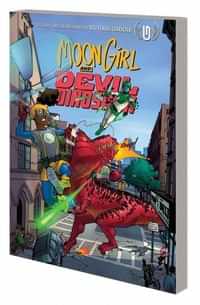 Amy Reeder(w)(c), Brandon Montclare(w), Natacha Bustos(a), Marco Failla(a)
Collects MOON GIRL AND DEVIL DINOSAUR #7-12.
She's been so busy worrying about the Terrigen Cloud turning her Inhuman, Lunella Lafayette might instead fall prey to...Cosmic Cooties?! Because when a new boy moves to town from far, far away, he's oddly interested in her. Meanwhile, the most wanted T. rex in NYC is running out of places to lie low - a problem that won't get any easier when our darling duo undergo a body swap! It's a big change-up that will see Luna spending a freaky Friday (or whatever day it happens to be) as Devil Dinosaur, and vice versa! Will Luna evade capture? Will DD get a passing grade? And who exactly is Moon Girl's new 9-year-old archnemesis, Kid Kree? Luna's got a huge future in the Marvel Universe, if only she can survive the present!
Price: $17.99