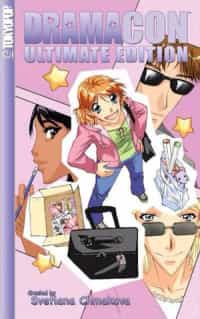 Tokyo Pop
Dramacon Manga GN 15th Anniversary Omnibus
Price: $24.99
Store availability: in stock!
Svetlana Chmakova(w)(a)(c)
Relive Christie's three-year adventure at the Yatta Anime Convention with this 15th-anniversary edition of Svetlana Chmakova's debut series: Dramacon. All three volumes are compacted into one pocket-sized edition. Vol 1 Summary: When amateur writer Christie settles in the artist alley of her first-ever anime convention, she sees it as an opportunity to promote the manga she had started with her artist boyfriend. But when she unexpectedly falls for a mysterious cosplayer, things become complicated. What do you do when you love someone who is going miles away from you in just a couple of days?! Web-comic vet Svetlana Chmakova gives us a funny, romantic, behind-the-scenes look at an anime convention-where sometimes even two is a crowd! Vol 2 Summary: It's Christie's second year at the Lakeside Anime Convention and the drama picks up right where it left off in Dramacon volume one! With her new partner-in-crime, a.k.a. artiste extraordinaire Bethany, she is promoting her latest comic. Matt is also back, but to Christie's shock, he now has a girlfriend! Vol 3 summary: College students Christie and Bethany are back to pimp their comic at the LAC, this time to a delightfully large crowd of loyal fans who read it online. Bethany's glowing with pride since her mascot art won the contest and is now on every t-shirt and program at the con. They are the stars this year!
Item #: 82882 Product code: JUN201553 UPC: 9781427864062