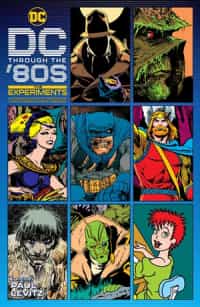 DC Comics
DC Through The 80s The Experiments HC
Price: $49.99
Store availability: in stock!
Various(w)(a), Gene Colan(c), Dick Giordano(c)
The 1980s were a period of unprecedented achievement and transition for DC Comics, one that introduced some of DC's most acclaimed and bestselling titles, including Watchmen and The Dark Knight Returns. For the first time, DC offers a retrospective of this monumental decade in one collected edition, featuring some of the most innovative and creative comics of the era, highlighting the work of groundbreaking creators such as Grant Morrison, Neil Gaiman, Alan Moore, and Frank Miller, in genre-bending works that pushed the boundaries of the medium. Collects Secret Origins #48, Swamp Thing #40, The Sandman #8, Doom Patrol #25, Warlord #48 and #55, Legion of Super-Heroes #298, Nathaniel Dusk #1, Infinity Inc. #14, The New Teen Titans #16, The Best of DC: Blue Ribbon Digest #58, Watchmen #1, Camelot 3000 #1, Batman: The Dark Knight Returns #2, Angel Love #1, and History of the DC Universe #1-2, all selected by former DC President and Publisher Paul Levitz.
Item #: 84772 Product code: 0121DC093 UPC: 9781779507099