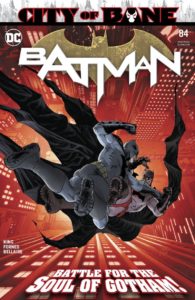 Hot This Week: 2099, Batman, X-Men, and more!
Here's is what's coming out this week at Zeus Comics. Dawn of X continues with X-Men #3, Marauders #3, and Excalibur #3. Plus, the 2099 series brings us Venom 2099 #1 and Ghost Rider 2099 #1. User our weekly checklist to build your comic pull list. Be sure to check out the preorders for new Funko toys from The Good Place as well.
Birds of Prose
Join us for the next Birds of Prose group meeting where we discuss our book of the month, Bad Luck Chuck! ‪Writer/creator Lela Gwenn will join us via skype as well!
Join the Birds for a chat with the author Wednesday, December 4th at 6:30pm at Zeus Comics. Bad Luck Chuck collection also available for 35% off at Zeus Comics in store.
"Birds of Prose" Women's Book Club is a great way to meet fellow fans of comic books and discuss our thoughts on selected books along with interviews with comic artists and writers such as Kel McDonald, Brian Michael Bendis, Lilah Sturges, Ngozi Ukazu, and more. Birds of Prose meets every month on the first Wednesday at 6pm at Zeus Comics. To learn more, you can visit our Facebook group page, our Meetup group page, as well as sign up for our newsletter.
About our weekly Checklist and FOC Preorder
Be sure to take advantage of our checklist and preorder form every week. Not only will you save 10% on all purchases, it's also a great way to reserve those chase variant comic covers. With preorders, before these issues come out, you can reserve your copy of your favorite comics and their variant covers.
Weekly preorders (final order cutoff) is a pre-pay system that guarantees the comics and covers you want! Weekly preorders goes live every Saturday morning and closes Monday at 5pm. Check out FOC now to see all the offers!
New This Week: