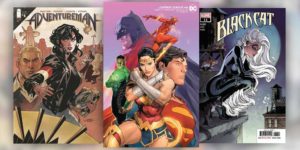 Never Miss an Issue with Zeus
With news of DC Comics transitioning away from comics distributor Diamond, we want to assure you there will be no gap in DC issues on the pull list or shelves at Zeus Comics.
Zeus made the move to DC's new distributor weeks ago after Diamond ceased distribution of comics at the end of March. Factoring into our decision was Diamond's long term viability after a two month hiatus.
While other publishers still with Diamond have reduced schedules and releases for the summer, DC has a full slate of comics planned including Dark Night Death Metal.
We will continue to watch the market and make the decisions and moves necessary so you never miss an issue!
Now shipping Comics
Zeus offers a flat $8 shipping service to customers across the country or even in town! Simply select the "Buy Now" option and choose shipping on check-out.
Or drop a note in the comments section of the pull list and we'll send you your list of comics with a total including shipping for your approval.
Shipments are on your schedule too – weekly, monthly, whenever – plus local customers comics arrive next day!
Smart Device Enabled
Prefer not to use cash or card? Zeus offers in-store customers a contactless payment option upon check out. Apple Pay, Google Pay et al. You can Tap and Go without the hassle!
About our weekly Pull List and Preorder service
Be sure to take advantage of our Pull List subscription service and Preorder discounts form every week. Not only do you get a 10% discount on all purchases, it's also a great way to reserve those chase variant comic covers. With preorders, before these issues come out, you can reserve your copy of your favorite comics and their variant covers.
Weekly preorders is a pre-pay system that guarantees the comics and covers you want! Weekly preorders goes live every Saturday morning and closes Monday at 5pm. Check out the new Preorder items to see all the offers!
New this week