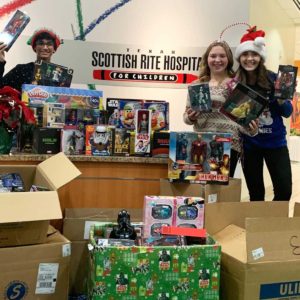 Hot this Week: Marvel's Incoming, Venom, and East of West conslusion
It's the final days until Christmas 2019!
Zeus is open extra hours for those last minute gifts or the sanity comic escapism brings to you this holiday season!
Sunday 12-6pm
Monday 12-6pm
Tuesday 12-6pm
Wednesday closed
Thursday (new comic day) 11-5pm
This years toy drive brought in exactly 200 toys, games and books for the kids  at Texas Scottish Rite Hospital for Children! That's thousands $$$ in donations!! Thanks to Reese and her elves, Elsa, Santa and most of all everyone that donated to help make it a Merry Christmas for the kids in the hospital this holiday season.
About our weekly Checklist and FOC Preorder
Be sure to take advantage of our checklist and preorder form every week. Not only will you save 10% on all purchases, it's also a great way to reserve those chase variant comic covers. With preorders, before these issues come out, you can reserve your copy of your favorite comics and their variant covers.
Weekly preorders (final order cutoff) is a pre-pay system that guarantees the comics and covers you want! Weekly preorders goes live every Saturday morning and closes Monday at 5pm. Check out FOC now to see all the offers!
New This Week:
Here's are this week's new comic book releases. It's the last issue of East of West, the first issue of Incoming,  and well, it's a short week actually. Here is the list!