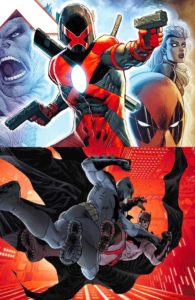 Zeus' top selling comic books of 2019
It's the end of the year–end of the decade!–and before venturing into 2020, we thought a look back at 2019's comic book sales would be an interesting insight into this local comic shop's sales to see which books did well, and how they stack up compared to the national market. Initially, the expectation was that our sales charts would be somewhat on par with numbers reported by Diamond and Comichron. However, when the tallies were done, the outliers highlighted major distinctions in the behaviors of Zeus Comics customer base and the rest of the market.
Take a look at these top selling single issues of 2019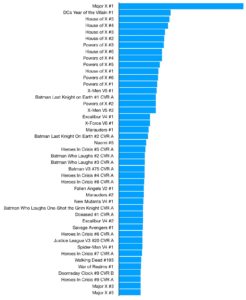 Major X #1
DCs Year of the Villain #1
House of X #5
House of X #4
House of X #3
House of X #2
Powers of X #3
House of X #6
Powers of X #4
Powers of X #5
House of X #1
Powers of X #6
Powers of X #1
X-Men V5 #1
Batman Last Knight on Earth #1 CVR A
Powers of X #2
X-Men V5 #2
Excalibur V4 #1
X-Force V6 #1
Marauders #1
Batman Last Knight On Earth #2 CVR A
Naomi #5
Heroes In Crisis #5 CVR A
Batman Who Laughs #2 CVR A
Batman Who Laughs #3 CVR A
Batman V3 #75 CVR A
Heroes In Crisis #4 CVR A
Heroes In Crisis #8 CVR A
Fallen Angels V2 #1
Marauders #2
New Mutants V4 #1
Batman Who Laughs One-Shot the Grim Knight CVR A
Dceased #1 CVR A
Excalibur V4 #2
Savage Avengers #1
Heroes In Crisis #6 CVR A
Justice League V3 #20 CVR A
Spider-Man V4 #1
Heroes In Crisis #7 CVR A
Walking Dead #193
War of Realms #1
Doomsday Clock #9 CVR B
Heroes In Crisis #9 CVR A
Major X #3
Major X #5
In terms of units sold, Major X #1 sold 2.4x as many issues as DC's Year of The Villain, and way more than any of the Dawn of X titles. However, looking at the national ranking, Major X #1 comes in at 185. DC's Year of The Villain was not even on Comichron's charts. So… what happened? 
Back in April, Zeus Comics had the opportunity to host Rob Liefeld for Major X #1 and we promoted the heck out of it. This wasn't a store signing, this was an event! We made large full-color posters, flyers, motion graphic facebook ads, the works. Hosting parties, signing events, even fundraisers is something Zeus Comics puts everything into, and our customers know that they're going to have a good experience. If there was any doubt (there wasn't but still), the numbers show it!
As far as DC's Year of The Villain goes, it was an offering from Free Comic Book Day, but it's unclear why it wouldn't be included on Comichron's list. After all, those are reported units sold. Similarly, last year's DC Nation #0 was also the highest title sold.
Top selling comic book titles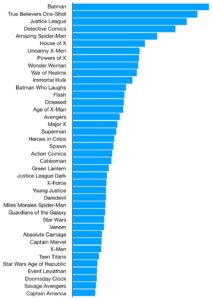 Batman
True Believers One-Shot
Justice League
Detective Comics
Amazing Spider-Man
House of X
Uncanny X-Men
Powers of X
Wonder Woman
War of Realms
Immortal Hulk
Batman Who Laughs
Flash
Dceased
Age of X-Man
Avengers
Major X
Superman
Heroes in Crisis
Spawn
Action Comics
Catwoman
Green Lantern
Justice League Dark
X-Force
Young Justice
Daredevil
Miles Morales Spider-Man
Guardians of the Galaxy
Star Wars
Venom
Absolute Carnage
Captain Marvel
X-Men
Teen Titans
Star Wars Age of Republic
Event Leviathan
Doomsday Clock
Savage Avengers
Captain America
When we aggregate all the issue titles, their variant issues, reprints, and event titles and their one-shots, Tom King's run on Batman makes our top selling comic book title of 2019. Marvel Comics' True Believer series was also a huge hit having multiple issues available per week with a $1.00 price point.
However, Jonathan Hickman's relaunch of X-men swept the other titles. House of X and Powers of X combined passed by Batman easily with just 12 issues.
The big takeaway
Connecting with customers has shown to be the single most effective way for writers and artists to grow an audience with their readers. Year over year, we notice above average sales on comics from writers and artists that come to our store and 2019 was no exception. When we give customers a chance to connect with our incredibly talented friends at events like Free Comic Book Day, our women's book club Birds of Prose, CAPE, the Girl Scout comic book badge event, and other signings, those artists become fan favorites.
This year, our customers got to spend time with Rob Liefeld, Lilah Sturges, Greg Rucca, Donny Cates, Leah Williams, Phil Jimenez, Michale Lark, and others, and our customers remember them when they see their works on the new release comic wall.
*numbers reflect sales toward the beginning of December