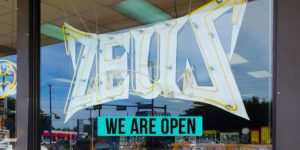 Zeus will remain open
With the situation surrounding COVID-19, the plans are to remain open with regular hours until the city requests businesses to close.
For our employees' safety and yours as well, we're wiping down surfaces, door handles, etc., frequently. Hand sanitizer is also available along with our restroom for hand washing.
You can also use tap and go, hands-free check out at the counter.
If you'd like your comics shipped, we can get them to you the next day using the US Postal service for only $8. We are also looking into same-day delivery services should the situation escalate.
Zeus Hours:
Thursday-Saturday 11am-7pm
Sunday, Tuesday 12-6pm
Monday Closed